Essential maintenance
HES is currently undertaking essential maintenance on our web services. This will limit access to services in the following ways:
- Subscription access for HES online services will be unavailable (Scran, NCAP)
- Image purchasing options will be limited (Canmore, Britain from Above, Scran, NCAP)
- Any enhanced services which require a log in will be unavailable (My Canmore, Britain from Above contributions, Scran contribute)
General access to these services will all continue. Enquiries will still be able to be submitted.
We anticipate services to be restored from Monday 1st February 2021.
Groups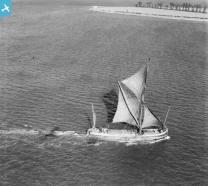 Thames Sailing Barges
About the group Collection of Thames Sailing Barge pictures
Created 18 February 2014




A close up of a Thames barge on the New Cut can be seen:



http://www.flickr.com/photos/kindredspirituk/10051404545/in/photostream/

Today this promenade has been 'privatised' and the few Thames barges that remain, pay their maintenance through pleasure cruses for the public.


Where's Canning Town?