We will be making some essential changes to our website hosting which will affect our websites from Friday 6 – Monday 9 December. During this time, this website will not be available.
We thank you for your patience while we work to improve the stability of our websites. For further updates, check our Twitter @HistEnvScot.
We apologise for any inconvenience.
Groups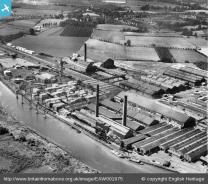 Pulp and Paper Mills
About the group Pulp and paper mills as they were
Created 10 December 2014

Chris

The mill, that made quality printings and writings, shut 1 April 2015 shortly after opening a new CHP plant.



Links 2016 http://www.tullisrussell.com/our-company/our-history.html

The archives

https://canmore.org.uk/site/333622/glenrothes-auchmuty-machine-house-4

Great audio:

https://standrewsrarebooks.wordpress.com/2015/12/10/reading-the-collections-week-40-tullis-russell-oral-history-collection/


Chris



Owned by White Pine Co; William Haig; Culter-Guardbridge Holdings; G.B. Papers Plc; James River Corp.; Curtis Fine Papers

In 1923 Five machines, one 96 ins., two 92 ins., one 84 ins., and one 72 ins. making Tub-sized: Air-dried Writings, Ledger, Envelope, Drawing. Linen-faced and Cartridge Papers. Engine-sized: Writings and Envelope Papers, Silurians, Tinted Writings and many more.

In 2008, when it closed there were still four machines.


Chris


Chris



There were a series of owners: Kennet Paper Co. The Daily Telegraph, Inveresk, Wiggins Teape, Arjo Wiggins. Excise Mill No 1.

In 1923 it was known as "Daily Telegraph" Paper Mills.

Five machines, two 94 ins., one 100 ins., one 112 ins., and one 134 ins. News in reels or reams. Ordinary and Supercalendered. Also Imitation Parchment and Bank Papers. Output about 20,000 tons per annum.

Closed by Arjowiggins in 2009.





The Greaseproof Mill was founded in 1933. Also owned by Wiggins Teape it closed in 1957.


Chris



In 1923 two machines, 85 ins. and 100 ins. powered by both water and steam, making Fine and Featherweight Printings. E.S. Writings and Envelope Papers.



Became part of Curtis Fine Paper (1967?) but closed in 2004.



http://www.penicuikpapermaking.org/dalmorem.html


Chris



In 1923 three machines, 96 ins. 72 ins. and 63 ins. making Writing and Envelope Papers, Printings and Plate Papers, Cartridges, Imitation Parchment, Opalines, Ivory Boards, White Pulp Boards. Tinted Papers, and Tinted Pulp Boards, Chromo and Art Papers of every description, Clothlined Papers, Manilla Boards, etc.

Closed 1965


Chris



In 1923 six machines making Pottery and other Tissues, Specially Prepared Duplex and Simplex Lithographic Transfer Paper, Cigarette Papers, Stereotyping Tissues, etc.

Closed 1979


Chris



In 1923 there were three machines, 106 ins., 78 ins., and 74 ins. White, Coloured, and Duplex Plate Blottings and Papers, Filter Papers, Wall Decoration Papers for Embossing, Post-card Papers, Duplex Boards and Pressings, Insulating Papers, Cover Papers. The Caldercruix mills had at one stage four paper-making machines, of which two were in operation when papermaking ended on 7 June 1971 still owned by the same company.


Chris



Potters was a founding member of the Wall Paper Manufacturers, Ltd. in 1899.

In 1923 there were four machines, one 90 ins., one 72 ins., and two 68 ins. steam powered making E.S. Writings, Cartridges, Long Elephants, White Printings, and M.G. Litho.

In 1970 mill was part of Reed Paper Group and was later sold to St. Regis which became DS Smith who shut the mill in 2012.


Chris



Sold to Matthew Toogood in 1808. Shut and reopened several times before becoming St. Neots Paper Mill Co., Ltd. in 1888.

By 1923 two machines, one 69 ins. and one 60 ins. using both water and steam. Products were: T.S. Superfine Writings, Banks, Loans, Charts, Drawings, Fine Envelope Papers, Typewriting Papers (Plain and Tinted), etc.

Stopped paper making paper 1939 except Wiggind Teape move production from Dover during WW2.

Leased to Samual Jones 1950 manufacturing gummed labels.

http://www.bernardoconnor.org.uk/Publications/Stneots/Industrialdev.htm


Chris



In 1922 it was taken over by Associated Press under the name Empire Paper Mills, Ltd.

By 1923 there were six machines one 142 ins., one 138 ins., three 90 ins., and one 56 ins.. Still manufacturing newsprint and other grades - Esparto, Supercalendered and M.F. Printings, Lithos, Imitation Arts Pastings, Coatings, Body Papers, M.G. Litho. and Fine News, Poster Papers, Antique Book Papers.

Later sold to A.E. Reed which became Reed Paper & Board. when the products were much more varied.

Also called Ingress Abbey Mill.

By 1975 down to 2 machines mill shut in 1992.



Source for some data http://kentrail.org.uk/empire_paper_mills.htm


Chris



1923 Three machines. Steam and water power. Caps, Royal Hands. Hand and machine-made Paper Bags, Brown, Blue, and Grey Wrappers, Carpet Felt Papers, and Roofing Fibre. 200 tons per week.

Closed 2000.



Chris



In 1923 the owners were Allen (John) & Sons (Ivybridge), Ltd.,; it had two machines, 72 ins. and 68 ins. making Fine and Superfine Writings, Vellums and Banks, Book, Envelope and Cartridge Papers, Blottings, Tub-sized Air-dried Rag Papers at 2,000 tons per annum.

It closed on 1 Dec 2013


Chris



1923 Owned by Pirie, Wyatt & Co., Ltd.

Excise Mill No 364.


Chris



Excise Mill No 312

In 1923 there were four machines, 100 ins., 84 ins., 82 ins., 70 ins., and 60 ins. making Fine News, Printing, Super-calendered Papers, Cartridges, and Imitation Parchments.

Mill was shut in 1983.


Chris



1923 making Chromos and Art Coated Papers and Boards, Coated Box Boards and Cloth-lined Boards. Water and Steam Powered

Closed 1980


Chris



1923 Four machines, 100 ins., 90 ins., 72 ins. and 60 ins. E.S. Writings, Printings, Fine News, Music and Cartridges.



Closed 1 Jun 1971


Chris



Owned by Donside Paper Co. and UK Paper Co. it specialised in fine papers.

It closed in 2001.


Chris





https://en.wikipedia.org/wiki/River_Darent#Eynsford_Paper_Mill

1923 Owner Arnold & Foster Two machines; 8 vats. Hand-made and Mould-made Papers, Extra Superfine Account Book and Writing (water-mark " Fellows "), Superfine Account Book (water-mark " Arnold "), Loan, Bank, Bank Note, Special Water-marked Papers, and Special " Unbleached Arnold." Drawing and Printing Papers. Output, 16 tons weekly.

Excise Mill No 330



Chris



Diversified products.

Shut 1978


Chris



Produced Newsprint

Shut 2010


Chris



1923 Two machines. Manufactured Superfine Writings. Bank, Loan, Drawing and Ledger Papers, Typewritings, Chart and Map Papers, Lithographic Papers, Bank Note Papers. Special Watermarks.

Closed 1949

https://bgphotos.wordpress.com/theme/basted-2/mill-history/


Chris



Established 1892 Owned by Killner Partington Paper Pulp Co, Barrow Paper Mills, Ltd.

Shut 1973



Chris



Owned by John Dickenson; Dickinson Robinson Group; Bowater

Shut 1999


Chris



Shut 1993


Chris


Chris


Chris


Chris



A very good new-built Paper Mill, situate and being in the Parish of Chartham, where is plenty of Water, two Miles distant from the City of Canterbury, built by Peter Archer, lately deceas'd, containing two Engines, two Fats (vats), and all the other utensils and conveniences fitting and necessary for the making of Paper; together with a very good Dwelling-house adjoining to the said Mill....

Chartham turned to tracing paper production in the 1930s, as part of a strategic aim to replace German supplies in the event of war. Expanded in 1949, Now, with a production of 10,000 tons/yr of translucent paper out of a total output of 15,000 tons/yr, it is one of the world's largest - if not the largest - suppliers of transparent medium.



Chris



To help the mill get back on its feet after the fire, Henry Hobday secured the order to make 'Conqueror', watermarked business stationery, from London paper merchants Wiggins Teape, in 1888. 'Conqueror' was an immediate success, being perceived as much superior to existing business stationery. So, to ensure continuity of supply, Wiggins Teape bought Buckland Mill in 1890.

Production of Conqueror continued until the mill was shut in June 2000. See http://www.dover-kent.co.uk/places/buckland_mill.htm


Chris


Chris


Chris





Paper was being manufactured at Dinting paperworks, to the west of Glossop, by 1835, the mill having been built as a cotton spinning mill in the early 1800s. By the 1860s there were at least two more in the area (Schmoller 1994).

Manufacture initially used rags, straw, jute and esparto (Anon 1936). A number of successive owners had gone bankrupt in the paper-making business; however, two empty paper mills at Whitfield were taken over by manufacturers from Bury to develop a new paper-making process. Experiments were successful and expansion began in 1882 to devel op the large paper-making complex known as Turn Lee Mills (SMR 6146; Hanmer & Winterbottom 1991)

http://archaeologydataservice.ac.uk/archiveDS/archiveDownload?t=arch-881...

See also http://www.glossopheritage.co.uk/turnlee.htm



Chris





Wm. Sommerville & Son was the last papermaking company to set up on the River Esk. Formerly a meal mill, work started on the construction of the papermill at Auchindinny in 1835.

By the time it closed in 2004 it was producing 10,000 tons a year of high quality paper and providing direct employment for 120 people.

http://www.penicuikpapermaking.org/dalmorem.html



Chris


Chris





The paper mill was previously the main local industry and was operated by Curtis Fine Papers. On July 24, 2008, the mill went into receivership and 180 workers were made redundant.

Wikipedia entry for Guardbridge village.


Chris



see

http://www.penicuikpapermaking.org/valleyfieldm.html



Papermaking was started at Valleyfield, Penicuik in 1709 by Sir John Clerk of Penicuik, Valleyfield closed on 1 August 1975, ending 267 years of papermaking.



Chris





1925 Private company.



1961 Manufacturers of power and telephone cable insulating papers, pressphans and other electrical specialities, base papers for abrasive, plastic base and other saturating papers, creped speciality papers for electrical insulation, impregnation coating and packaging, template board, jacquard card material, Atlas label and envelope manillas, Husky white and tinted manillas, Standard buff manilla, airmail envelope papers, oiled and plain tympans, multiply papers made from extra strong fibres. 500 employees


Chris


Chris



BVPM produced "parchment" by a heavily beating fibre to make the paper and then treating with sulphuric acid. Developed here by Inversk later Wiggins Teape.

Kent Kraft was centred here making sacks for the local cement industry.



Chris





Chris





The mill later passed into the ownership of Wiggins Teape and paper production continued on the site until 2009 when it was closed and demolished.


Chris


Chris


Chris


Chris
Other Northern English Mills
Paper making outside the NW was not so concentrated but still significant.