We're working hard to make our services better for you. While we're doing some essential maintenance, this website – or parts of it – might be intermittently unavailable at times between Monday 18 – Monday 25 November. Thank you for your patience.
Groups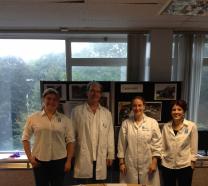 Britain from Above Careers
About the group Resources for people interested in pursuing a career within the creative industry.
Created 25 September 2014
| | | |
| --- | --- | --- |
| Project staff from across England, Scotland, and Wales have been working in partnership to make Aerofilms aerial photographs available for all to enjoy. This short film will introduce you to four staff members chosen from across these three countries. It explains the work that they do on the project and how they came to be where they are today as part of the Britain from Above team. We hope that this film will give you a taste of the kind of work that goes in the heritage sector in a major project such as this – and perhaps encourage you to think about working in the heritage sector yourself. | Aisha Hamis | |